BlackGaySlay
Serena Williams' GQ cover controversy: Here's why people are upset with 'Woman' of the Year title
Serena Williams may have had one of 2018's most polarizing moments in sports when she criticized umpire Carlos Ramos as a "thief" during her US Open loss to Naomi Osaka, so it's fitting that one of her biggest honors of the year is causing its own controversy.
A 23-time Grand Slam champion who returned to the court this year following the birth of her daughter in September 2017, Williams appeared on the cover of GQ magazine this week. The 37-year-old tennis star was named alongside actors Henry Golding, Jonah Hill and Michael B. Jordan as part of GQ's Men and Women of the Year honors.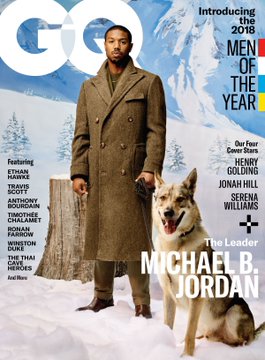 But Williams' cover, in particular, has drawn some backlash because it featured the Woman of the Year title with "Woman" in quotations -- a move that GQ says is purely artistic but some have considered disrespectful to Williams.
Where's the apparent disrespect? Well, the three Man of the Year covers have no quotations, which might suggest "Woman" isn't as important to GQ. But that doesn't appear to be the case here, regardless of heated Twitter rhetoric, as the typography for the cover was actually handwritten by designer Virgil Abloh, who uses quotation marks in his designs. Abloh even teamed up with Williams herself for the tennis player's US Open outfit, which featured "Serena" in quotations on trainers and "Logo" on Williams' tutu dress.
Questions aside, the honor pegs Serena as a standing icon of her sport, even after one of the most controversial points of her career -- one far more intense than debate over a magazine heading.
The six-time US Open champion was bedridden for six weeks following her pregnancy in 2017 and got off to a rough start in 2018, suffering early exits early in the year. Then she withdrew from a French Open bout with Maria Sharapova due to a pectoral injury and entered Wimbledon with just a No. 25 ranking despite six career wins there. Williams finished the year on a climb, however, advancing to the Wimbledon final and then doing the same at the US Open.
In August, she easily topped Forbes' list of highest-earning female athletes, confirming her value as one of sports' most marketable names.
(cbs news)