BlackGaySlay
Here's What You Need To Know About The Howard Student Who Scammed MAGA Supporters Out Of $150,000
Update (November 5, 2018): It turns out the greatest scamming story to drop this week is not quite as wild as it seemed.
In an interview with New York Magazine, Quran, the Black college student who reportedly profited $150,000 from Republicans, said she didn't scam anyone. She also claimed she didn't raise anywhere near that amount. She told the magazine her total take was $0 because she refunded all of the donated funds. The student also said she only received about $200.
"I just felt really weird about taking their money," the art history major said. Quran added she was overwhelmed by the attention and decided, "This could go south really fast. I just decided to refund everyone and give their money back. I think it was like maybe $200 at that point."
Brian Feldman, who conducted the interview, found GoFundMe had refunded at least $90. Quran claims the whole thing wasn't a scam because while she isn't a Republican or a Trump supporter, she did plan on using any donations to fund her education at Howard. "Yeah, I can't pay for school, but I don't want Republican money to pay for it," she said. "I just want everyone to think I'm the finesse queen, which I am." And that's that.
Original: From Stacey Dash to Candace Owens, the MAGA bunch thrives on minorities left disenfranchised by members of their community. Desperate to prove some of their tone-deaf rhetoric shouldn't be interpreted as racism, they blindly embrace any African-American supporter who proudly dons their red hat in solidarity.
Last month, a so-called Black Republican took advantage of their seemingly good nature and profited hugely.
A Twitter user who goes by the name of "Reformed Republican" posted a photo of herself in a "Make America Great Again" bucket hat and proudly announced her allegiance to the party of Donald Trump: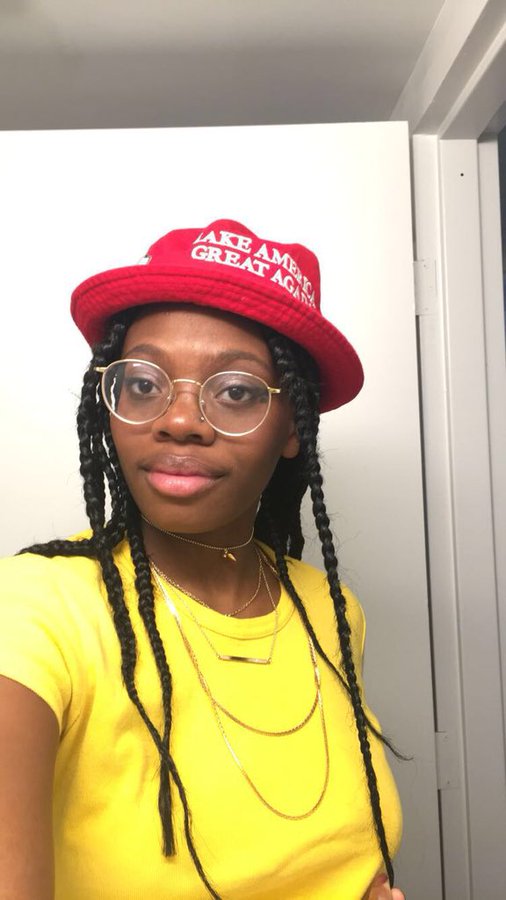 reformed republican@chckpeasI will not hide any longer,, the left has made us feel as if us black republicans should hide!! but not anymore!! #BlacksForTrump #WalkAway #maga 24.1K8:15 AM - Oct 27, 2018
After a slew of encouragement from other conservatives came pouring in, she followed up with another tweet thanking her newfound alliance members for their support, adding that her parents refused to pay for her university tuition. She then asked for her help from her online family.
reformed republican@chckpeas · Oct 27, 2018I will not hide any longer,, the left has made us feel as if us black republicans should hide!! but not anymore!! #BlacksForTrump #WalkAway #maga
reformed republican@chckpeasthank you all so much for your overwhelming support. After seeing this tweet my parents cut me off and refuse to pay my university tuition. So if you can find it in your hearts to help this young, black republican pay for school it would be appreciated
Photos depicting a conversation between Reformed Republican and her parents showed that despite her pleading with her mother to accept her choices, she would ultimately have to move out of their home.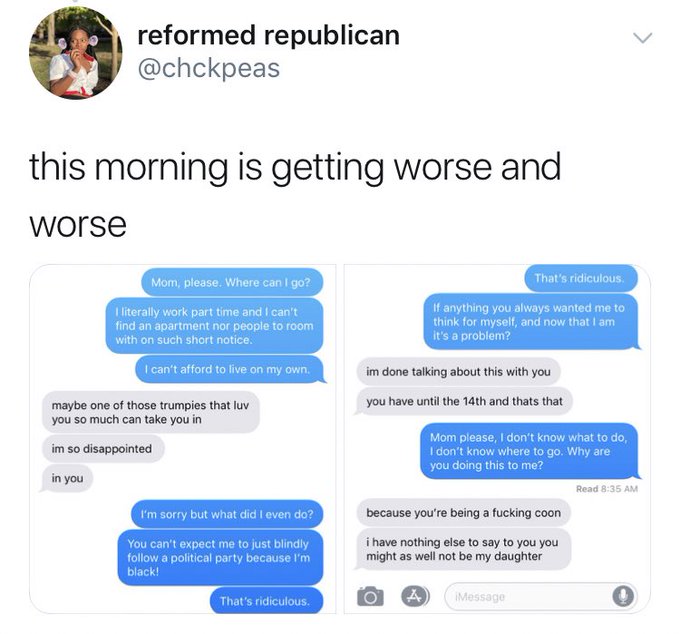 Alex Bruce-Smith✔@alexbrucesmithReplying to @alexbrucesmithI don't know if these texts were originally real or not, but they were definitely not from her mum / to her 2,0401:46 PM - Nov 4, 2018
In a now-deleted GoFundMe campaign, she begged her fellow MAGA-yielding allies to help put her through school. However, that all proved to be false, and she swindled Republicans out of nearly $150,000. Hours later, she came clean on her finesse, revealing that this was a sham to con Trump fans out of their earnings.
reformed republican@chckpeasTrump is a racist, homophobic, transphobic, bigot AND YOU THINK MY BLACK ASS WOULD SUPPORT THAT ROTTING CARROT?? ridiculous. any black person can put on that ugly ass hat and say #MAGA and yall will instantly be up their ass cuz you wanna prove so hard you're not racist
According to NYMag.com, Reformed Republican is an art history major at Howard University, currently taking a semester off from school. The idea came when she returned to D.C. to visit friends during Howard's homecoming festivities. There, she came across the MAGA hat and decided to photograph herself in it as a way to poke fun at other African Americans who aligned themselves with the Republican Party.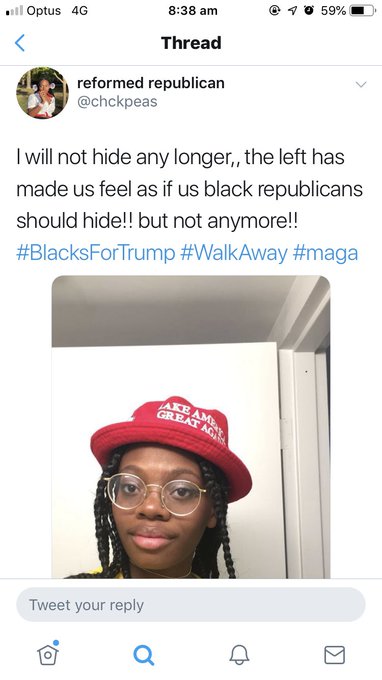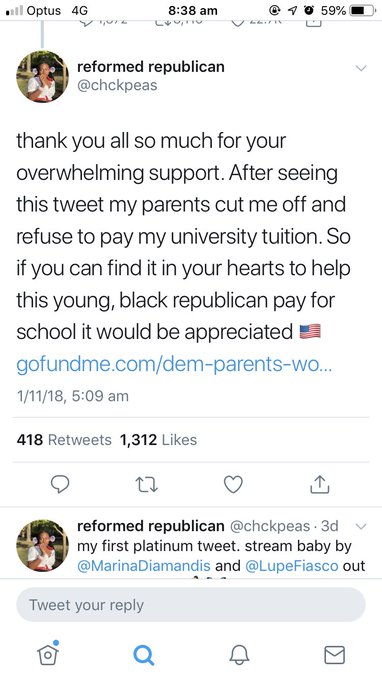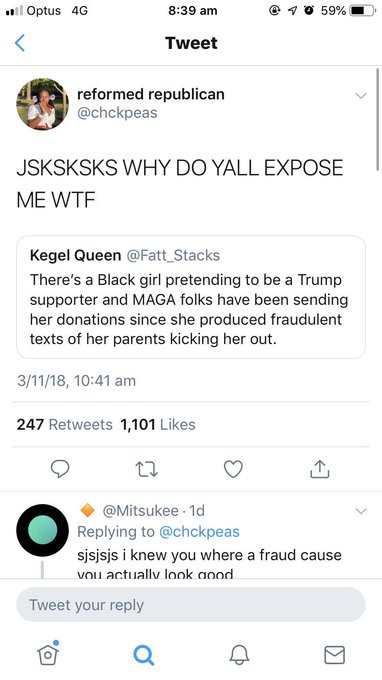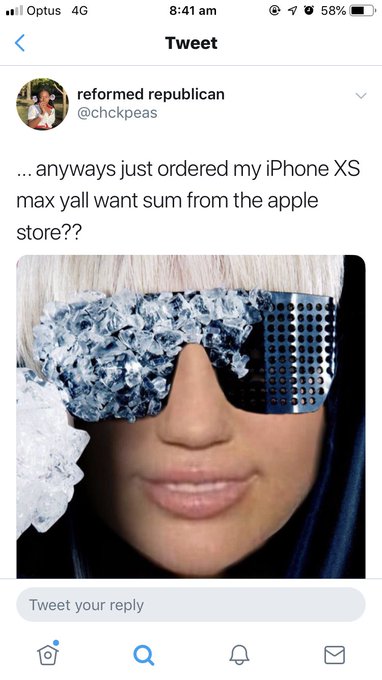 Alex Bruce-Smith✔@alexbrucesmiththe scam of the century 285K1:42 PM - Nov 4, 2018
Her reasoning behind extorting from her so-called comrades? Republicans aren't people.
the GoFundMe has been taken down but there was a tweet suggesting she'd scammed about $150k pic.twitter.com/FEKjmTavn1 — Alex Bruce-Smith (@alexbrucesmith) November 4, 2018
(Blavity)